Major Activities of CPRC
 Research activities in CPRC are basically conducted by "Tripartite Collaboration" composed of staff members of Fair Trade Commission, economists, and jurists. This is due to three reasons described bellow:
 Firstly, the staff members of Fair Trade Commission expect to improve theoretical foundation of the secretarial bureau of Fair Trade Commission by training, so to speak, OJT through participation of the collaborative studies. Secondly, we would like to offer academic researchers opportunities to sharpen consciousness and senses through collaboration with the staff members who are coping with real policy tasks. And lastly, there is wish to build the foundation on which we discuss issues in common language beyond the difference between economic and juristic approaches as the theoretical foundation of competition policy in a step-by-step fashion.
 There are some exceptional studies, of course, in which this principle is not applied. However, we set themes and formulate teams in line with the principle of "Tripartite Collaboration" as much as possible.
 CPRC Discussion Papers Series perform functions to let researchers who participate in research activities compile the results on which each member's awareness of issues is developed further and to offer them opportunities to publish the results externally and timely. We also utilize those papers as the media from which we distribute seminar papers to specialists inside and outside the center who participate in seminars sponsored by CPRC.
 Workshops are held mainly to improve the quality of joint researches of CPRC in each draft-making stage of planning, midterm report, and final report through discussions by guest researchers and staff members of Fair Trade Commission. In addition, it also performs function of liaison between academic researches and actual scenes of policy through free discussions based on the discussion papers of the researchers and on current policy tasks the Fair Trade Commission is facing.
 While workshops are defined as the opportunities of discussion on collaborative researches of CPRC, we hold Informal Workshops offering opportunities where we can discuss issues more freely and on wider tasks than Workshops. We conduct a wide range of activities such as discussions inviting instructors from outside the center on various issues of each time, discussions based on the presentations regarding policy issues given by staff members of the Fair Trade Commission, exchange events with competition policy authorities in foreign countries on the occasion when they visit Japan, etc.
 We hold BBL by using lunch time to exchange opinions between visiting researchers and staff members in a lighthearted way.
 We hold international symposiums inviting practical experts and academic experts of competition policy from foreign countries to function as the center of international exchange regarding competition policy. We implement panel discussions and other events participated by researchers of CPRC and excecutives of the Fair Trade Commission based on the results of academic researches and topics of international competition policy.
 Open seminars are held in order to introduce the results of CPRC's research activities such as joint research reports and discussion papers to outside the center.These seminars are also utilized as the opportunities of presentations of high officials and experts in charge of competition policy in foreign countries who visit Japan and as the opportunities to introduce research activities of visiting researchers of CPRC.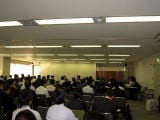 Specialized Staff Training
 Research activities in CPRC are basically conducted by "Tripartite Collaboration" composed of staff members of the Fair Trade Commission, economists, and jurists as illustrated at the section of collaboratice researches We hold staff meetings to enhance knowledge and vision of the staff members who participate in such collaborative researches and to reinforce the theretical backbone in routine work.
 We cover from basic study like microeconomics, industrial organization theory, econometrics up to application issues based on the results of collaborative researches of Cometition Policy Center by inviting experts such as visiting researchers of CPRC as our instructors.